The Danish Scheme: The Repatriation of British Prisoners
of War through Denmark at the end of the First World War
Between 11 November 1918 and mid January 1919 almost a quarter of the British Prisoners of
War (POWs) held in Germany were returned to Britain via Denmark and the Baltic ports. The
operation became known as the 'Danish Scheme'.

Film "Return of the Interned":
"Scottish moving picture news, return of the interned"
The "Ficaria" and the "Primula" arrived at Leith on Thursday 28.11.1918, having left Copenhagen on the 25'th.
The passengers were 609 civilians, former Ruhleben internees and some women and children.
The "A.P. Bernsdorff" and the J.C. La Cour" arrived on Saturday 30.11.1918 having left Copenhagen on the 27'th.
The passengers on "A.P. Bernsdorff" were 300 civilians from Ruhleben, including a group of coloured musicians, and 300 soldiers, ex pows.
The passengers on the "J.C. La Cour" were 400 pows mainly from internment in the Brandenburg area.

All 4 ships were part of the D.F.D.S. fleet.
--------------------------------------------------------------------------------------------------------------------------------------------------
Newly added

the right man in the right job at the right time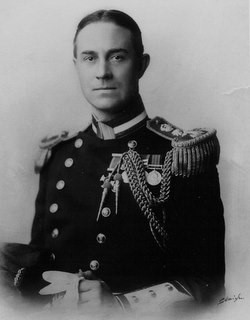 Click on the text to read the whole article:
Captain Charles Cabry Dix wasn't "just" good at his job as an officer in the British Royal Navy,
he proved to be the right man in the right job at the right time as Naval Attaché in Copenhagen between 1917 and 1919.
If not a born diplomat, his social skills and natural charm - he was attentive, curious and could talk to anyone -
were a great advantage when he was establishing his network in a city he knew little about.
The best restaurants in Copenhagen were open despite rationing and fine dining was possible throughout.
Indeed Captain Dix frequented these establishments and actively and regularly wined and dined his "contacts"; it was all part of the job. And it paid off!
Working on
Hjælp ydet fra danske krigsgudmødre til britiske krigsfanger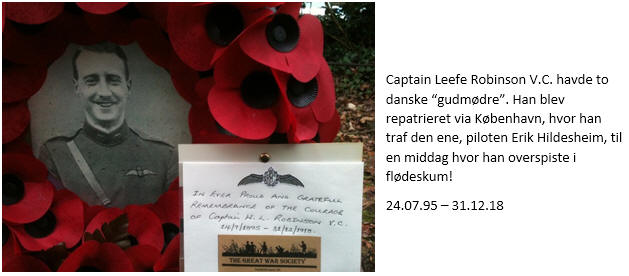 Sir Ralph Paget forklarede at pakkerne var betalt "by philanthropic and pro-Ally Danes, and it is difficult to see
how it would be possible to stop the dispatch even if it were desired to do so." Han fortsatte "The Danish Red Cross and the Danes generally
have been most generous to our prisoners, and it would seem somewhat ungracious if His Majesty's Government now prohibited the dispatch of the parcels."
Tilbage i the Prisoner of War Department" i England mente de dog noget andet. Hvis de "charitable Danes" ønskede at hjælpe britiske krigsfanger,
kunne de yde et bidrag til dansk røde kors til deres udgifter til forsendelse af pakkerne med brød og "first capture" pakker sendt fra the Copenhagen Bureau i København.
--------------------------------------------------------------------------------------------------------------------------------------------------
News and updates:
04-02-2019 the right man in the right job at the right time - English added
03-11-2018 From Dänholm to repatriation and Home – Appendix C - English added
03-11-2018 Dannebrogsvalmuen - "The Danish flag" poppy - English added
01-11-2018 Ea Dinesen, en krigsgudmor - opdateret
30-07-2018 From Dänholm to repatriation and Home – Appendix B - English added
27-12-2017 Quedlinburg men's camp - Christmas in Denmark - English added *** updated 16-01-2018
30-11-2017 From Dänholm to repatriation and Home – Appendix A - English added